Istesso is an innovative biotech company involved in profound ground-breaking discoveries with some of the world's leading scientists. They approached Base Creative to help portray who they are through digital, with the creation of their brand and the launch of a new website.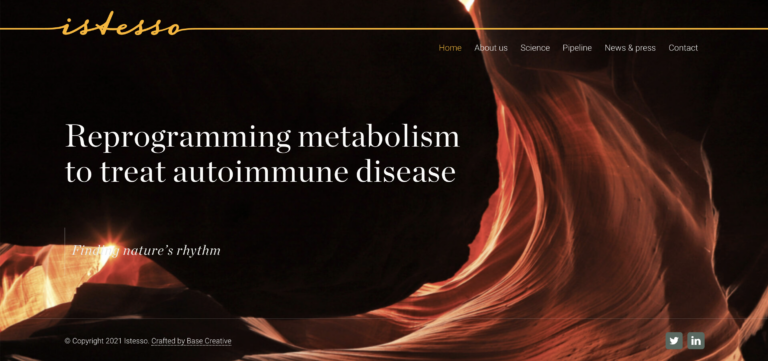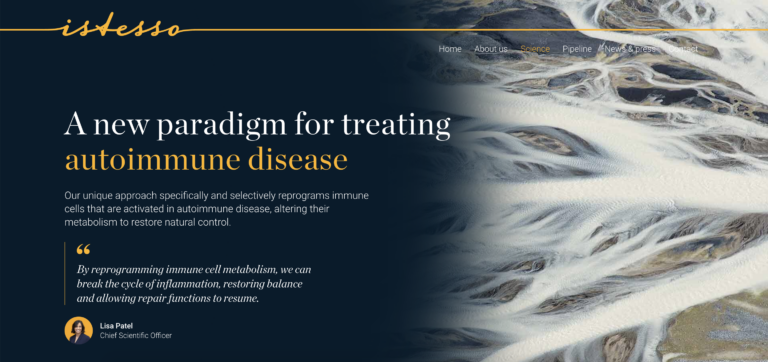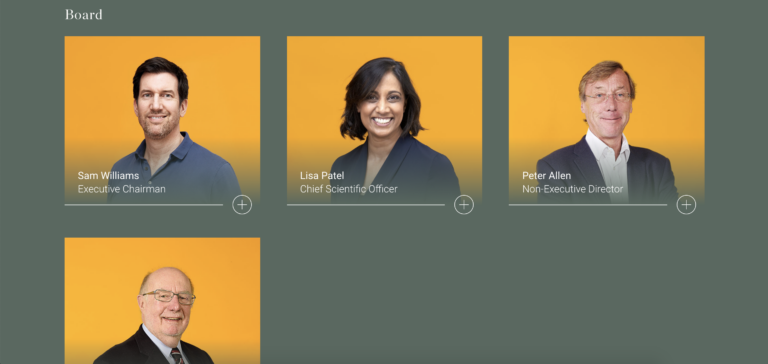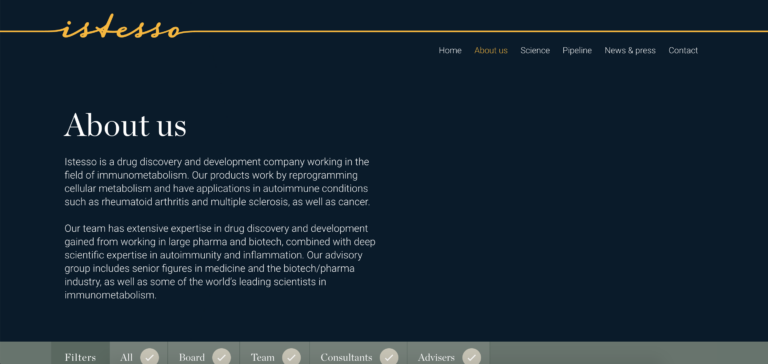 The results & the experience
Istesso, a drug discovery and development company working in the field of immunometabolism, wanted an online presence that could suitably represent them and their expertise, even as their business changes over the next 3-5 years.
Working in collaboration with design agency AND, we began by developing new branding for Istesso. Our aim was to create a brand that purposely felt non-medical, so that Istesso would be approachable for their audience, regardless of their level of scientific knowledge.
We also built a responsive website to appeal to their audiences and help them achieve their goals of awareness and education, all while ensuring that the design was flexible enough to continue to represent Istesso as their business develops.
We were also tasked with content creation for the website. As with the branding, our goal was to make the content factually accurate and exciting, yet approachable for audiences of all levels. Our process included interviewing the subject matter expert at Istesso to get the technical details, from which the copywriter would then write the website copy needed with non-experts in mind.
The resulting website is clean and simple, employing clear typography that echoes their principles of clarity and straight talk. Today, we continue to support Istesso with website updates and digital marketing activities to further raise awareness and mark the progress of the fascinating work they're doing.
A great team who think strategically and creatively to find the best solutions to problems, and create drivers for future engagement and growth. They are all leaders in their fields, and are thoroughly fun, friendly and engaging on top of it. A pleasure to work with and real value creators. Highly recommended.

L. PATEL – CSO, ISTESSO
Istesso's discovery that the human body can be reprogrammed to actively rebuild itself after autoimmune disease attacks is immensely exciting. Lisa and the team care deeply about the work they're doing, and are great people to work with. We're delighted to be supporting them by presenting their message to the wider world through the website and wider digital marketing.

Greg Mileham

Managing Director