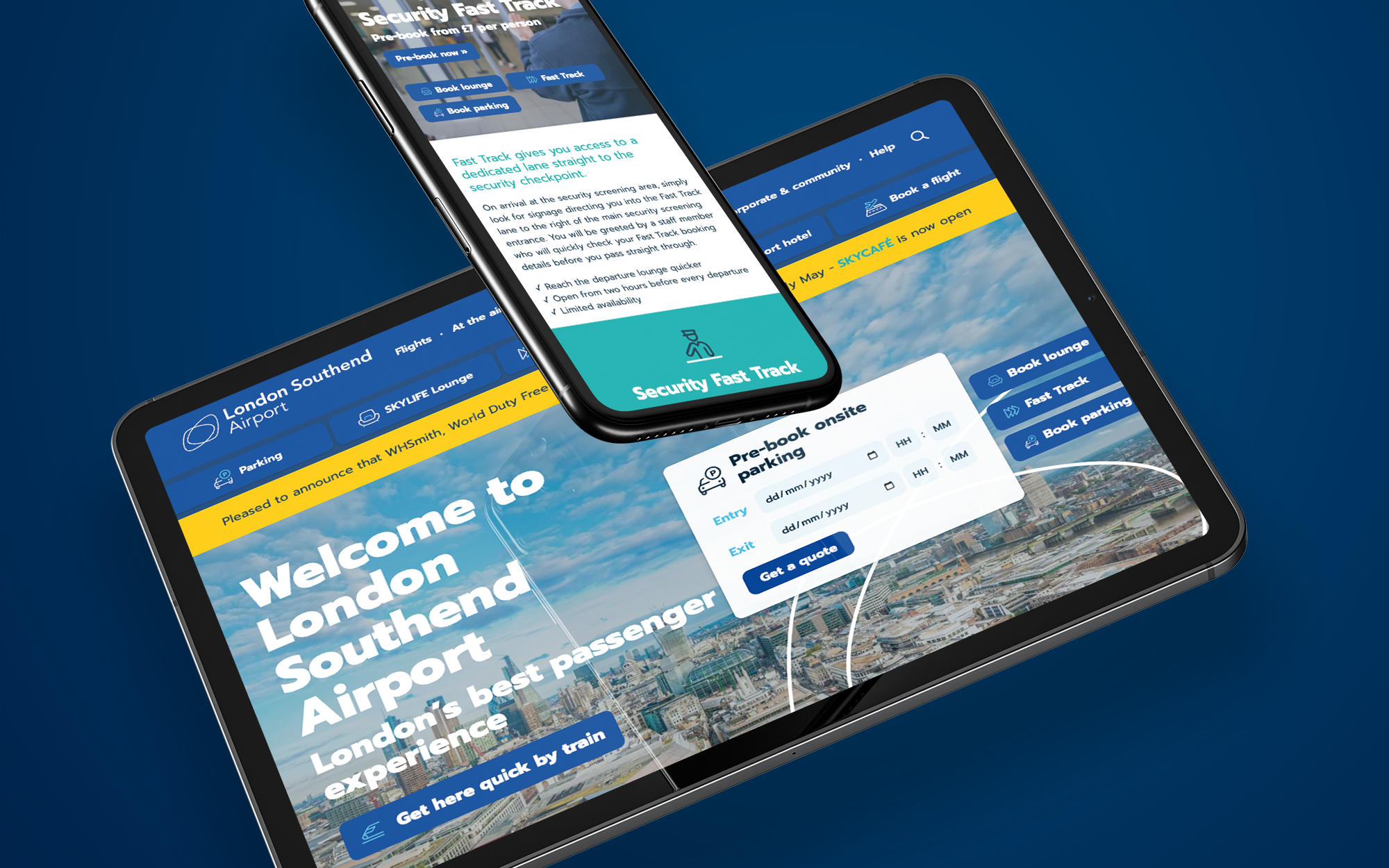 Taking digital marketing to new heights
We partnered with London Southend Airport to launch their new website, redesigned to put the needs of
their passengers first.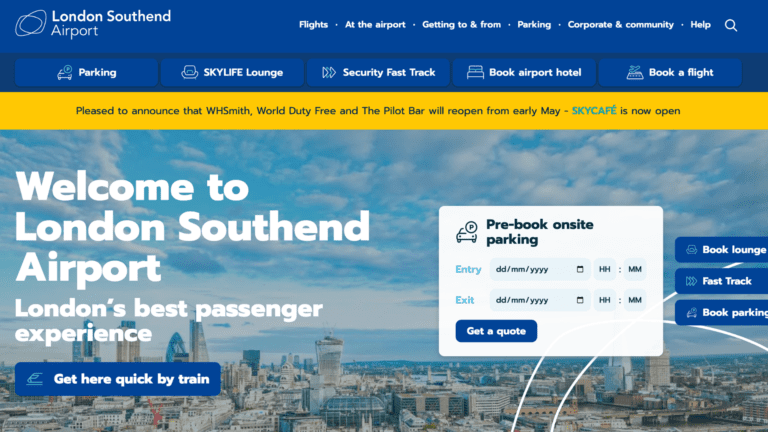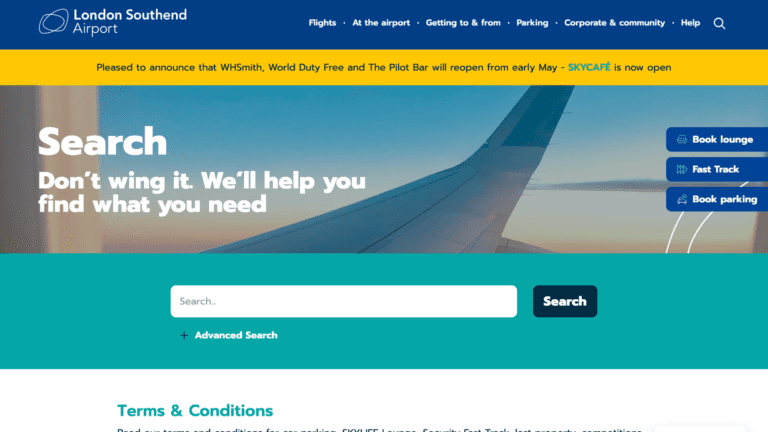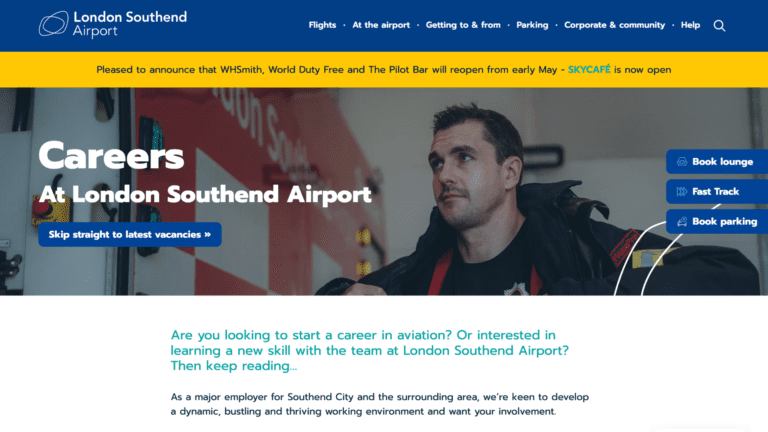 The results & the experience
With six airports in and around London, London Southend Airport's greatest strength has always been its convenient, stress-free passenger experience. Base Creative's challenge was making London Southend Airport's website reflect that in full, creating a site that passengers could use to answer all of their questions, allowing them to embark on their journey with total confidence.
Audience research and customer insight was vital, which was why members of the Base Creative team flew with London Southend Airport to gain an in-depth understanding of their customers' needs. This first-hand research is reflected all over the new site. It informed the philosophy underlying our design, and made sure that the site was rooted in the business' greatest strengths.
Intelligent search
The new site has an intuitive search function, allowing visitors to find the information they need quickly and easily. As well as displaying the most relevant pages, it also shows any relevant FAQs in full without the need to click additional links. This change isn't just about making navigation easy to use. It's about helping passengers feel confident choosing their destination, booking their flight, getting to and from the airport by answering any queries they might have.
In-depth FAQs
We worked with London Southend Airport to develop an in-depth set of FAQs based on competitor and keyword research. Then, to make it even easier for visitors to find helpful information, we ensured that key questions were included on relevant pages throughout the website. As mentioned above, answers from these FAQs also appear as search results without the need to click additional links.
Flight schedules
The new flight information page includes "at-a-glance" flight schedules. These show which flights are being flown to and when, designed to encourage potential passengers to book.
Imagery & tone of voice
The new site doesn't just reflect London Southend Airport's brand by being easy to navigate. It also reflects this branding in its imagery, which is designed to make it appear inviting and friendly while making use of cool brand colours. To match the site's new easy-to-use navigation, all existing content was adapted to suit a more friendly and helpful tone of voice.
Recruitment
Passengers aren't the only visitors who will have questions about London Southend Airport. Our initial research showed that there are a lot of searches for job opportunities at the airport.
To meet this demand, the airport's workplace culture is now showcased through a comprehensive "Working at London Southend Airport" section. Here, prospective employees can get a glimpse into what it's like to work at the airport, while our enhanced "Careers" page makes it easy to find out which vacancies are available across the airport.
Corporate & community
As well as a new section focused on potential employees, the new website has a "Corporate & Community" section with sections on environmental responsibility, charity, noise management and more community-focused initiatives. It also reintroduces a "News" section which houses press releases to make sure that this audience is up to date with all upcoming opportunities.
Revenue generation
The new and improved website is designed to act as a revenue generator rather than a cost centre by making the path to purchasing easier and more attractive.
As part of this, we've added a handy "quick links" banner on the homepage to help passengers purchase the services they need to improve their flight experience.
What's next?
This is just the start of the partnership between London Southend Airport. Base Creative will not just be supporting them across all of their digital marketing channels and activities either.
We are already developing a content hub for the new website. This is aimed at increasing site traffic and engagement, boosting the airport's reputation, and, ultimately, inspiring potential fliers in the airport's catchment area to fly with London Southend Airport
Our ongoing analytics will also help us continue to refine the user experience. This covers a range of activities including improving the site's new search and adding new FAQs depending on our research.
Continuing as London's best passenger terminal experience, we are delighted to unveil our new customer-centric website, which is brimming with enhanced passenger-friendly features. The new site, developed in partnership with Base Creative, reflects our brand ethos of 'quick and easy' and meets the fast-paced needs of a passenger with 'one-click' capabilities. We believe it will in fact surpass our passengers' current and future expectations of site information and fluid navigation.

Caroline Fitzgerald, London Southend Airport


We are thrilled to have partnered with London Southend Airport to create a website that puts the needs of their passengers first. Our goal was to provide a seamless user experience that allows passengers to quickly and easily find the information they need. With the new website, passengers can easily access essential pre-flight information and advice, book their travel products quickly, and plan their journey to the airport. I am confident that the new website will enhance the overall travel experience for passengers.

Iain Scott, CEO, Base Creative