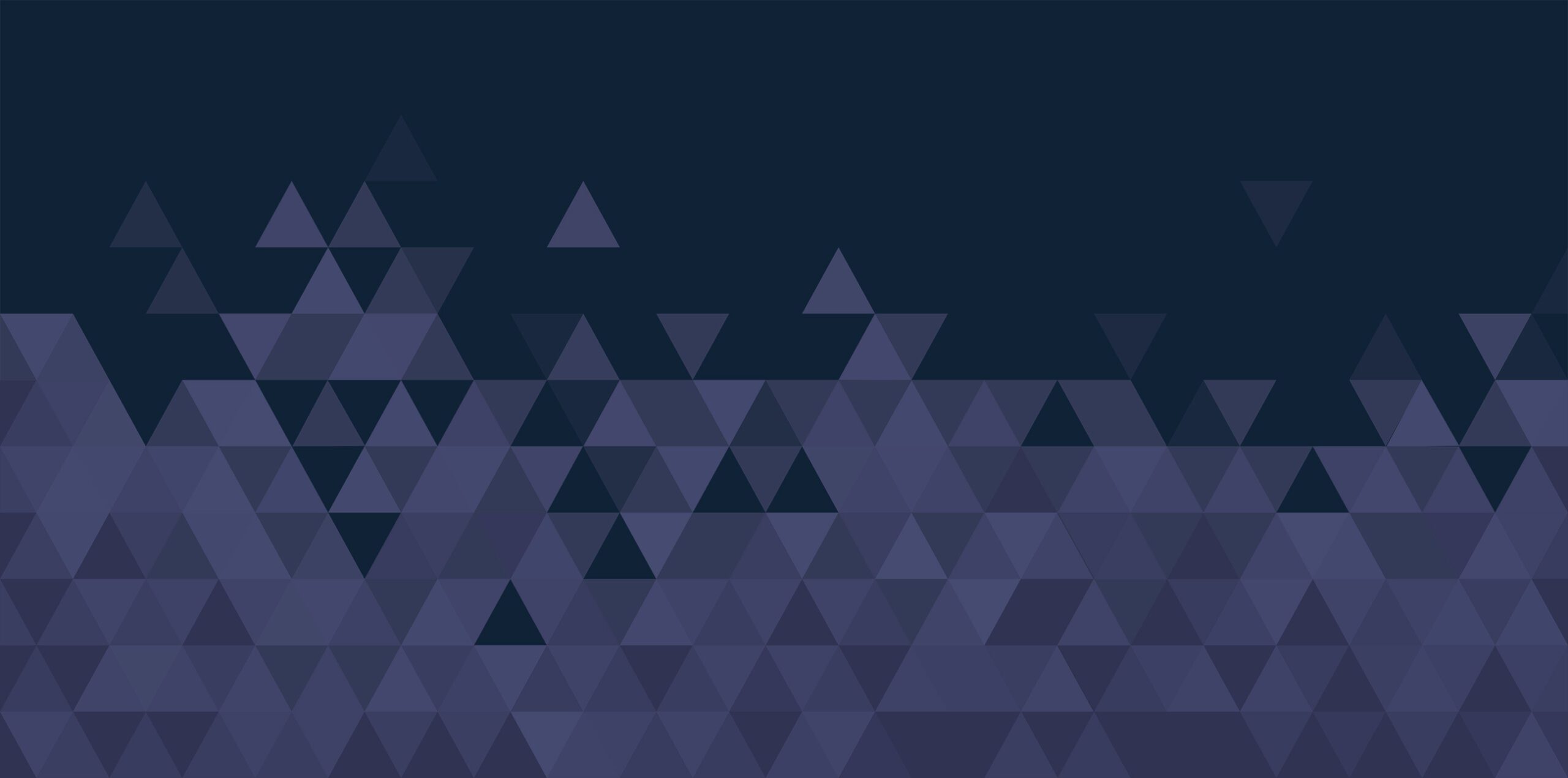 10 proven lead magnet ideas to grow your email list
The best way to build up your email list is to provide a lead magnet right at the start. Here are 10 lead magnet ideas to help you start rebuilding your email list after GDPR came into effect in May 2018.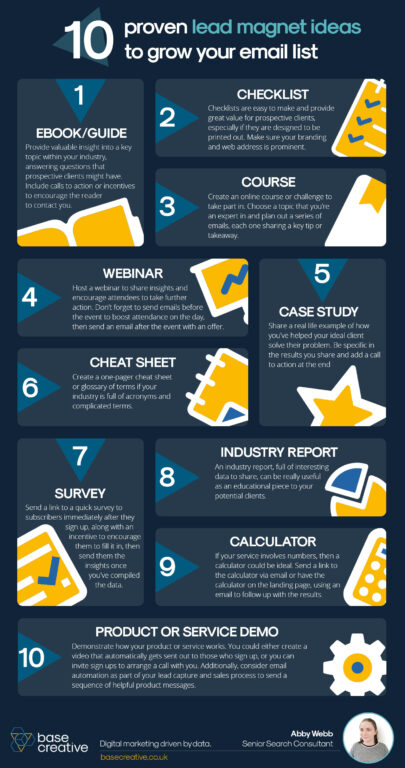 Get the download
To download our lead magnet ideas infographic, click the button below.
GDPR was a positive step towards better data privacy, but it also meant many email databases were cut significantly in order to fully comply. Although GDPR came into force over 3 years ago now (where has that time gone?!), mailing lists haven't fully recovered since, and many marketers have turned their back from email marketing altogether.
But here's why email marketing should still play a part in your marketing strategy: for every £1 spent on it, you can expect a return of £42, according to the Data & Marketing Association.
Once you've ensured that the way you collect your email addresses is GDPR compliant, you'll want to start planning how you'll target and inspire your ideal clients to sign up and receive your newsletters. The best way to build up your email list is to provide a lead magnet right at the start.
What is a lead magnet?
A lead magnet is a free guide, checklist or resource designed to showcase your expertise while encouraging the recipient to take action and engage with you. Create a compelling piece of content that provides real value to them, then ask for an email address in exchange.
Remember, under GDPR law, visitors can sign up for the lead magnet without being added to your newsletter list, so make sure you provide the opportunity and a strong reason for them to subscribe to your newsletter during the lead magnet sign up process. New to building a list? Suzanne Dibble has plenty of resources and advice on GDPR compliance and email marketing here.
Here are 10 lead magnet ideas to help you start rebuilding your email list.
1. Ebook/guide
Nothing shows your authority and expertise quite like an ebook. Provide valuable insight into a key topic within your industry, answering questions that prospective clients might have (here's how to find out what they are), and include calls to action or incentives throughout to encourage the reader to contact you. 
2. Checklist
Checklists are easy to make and provide great value for prospective clients, especially if they are designed to be printed out (make sure your branding and web address is prominent!). For example, an estate agent could create a moving day checklist, or an accountant could create a year end accounts checklist.
3. Course
Make the most of the automation tools of your email software and create an online course or challenge to take part in. Choose a topic that you're an expert in and plan out a series of emails, each one sharing a key tip or takeaway. You could send out an email once a day or once a week with the next lesson. For extra value, you can combine this with a checklist or ebook at the end of the course to provide a reminder of the lessons.
4. Webinar
Webinars work wonders for boosting email lists! Whether you decide to collect sign ups for a live session or an on-demand recording, hosting a webinar is a great opportunity to share insights and encourage attendees to take further action. Don't forget to send emails before the event to boost attendance on the day, then send an email after the event with an offer they simply can't refuse (along with the opportunity to join your newsletter for even more tips from you!). Here are even more webinar promotion ideas. 
5. Case study
You'll already know that case studies are an effective marketing tool when it comes to landing new clients. They're also a great incentive to encourage more sign ups to your mailing list. Sharing a real life example of how you've helped someone just like them solve their problem is compelling. Be specific in the results you share and be sure to add a call to action at the end.
6. Cheat sheet
If your industry is full of acronyms and complicated terms (I know marketing is full of them!), then a one-pager cheat sheet or glossary of terms could be just what your ideal client is looking for. Make sure the design is print-friendly for bonus points.
7. Survey
Send a link to a quick survey (and emphasise the speed in which they can complete it in) to subscribers immediately after they sign up, along with an incentive to encourage them to fill it in. You'll benefit from collecting lots of helpful data and insights within your industry – data that can help you make your service even better. For subscribers, the promise of being sent the survey results in the future on a topic they're interested in (and a chance to win a prize for filling the survey out) will encourage more people to take part.
8. Industry report
Have you recently created a report on the state of your industry? Or, have you commissioned a survey (see #7) and have some interesting data to share? A report of this kind can be really useful to your potential clients, by helping them make an informed decision to work with you, or by illustrating the value of the service you provide. It can also be a great taster of what they can expect by signing up to your emails!
9. Demonstration
Demonstrating how your product or service works is a genius way of introducing what you do to prospective clients. You could either create a video that automatically gets sent out to those who sign up, or you can invite sign ups to arrange a call with you where you can provide a 15-minute demonstration and answer any questions, depending on your availability.
10. Calculator
If your service involves numbers (estate agents, accountancy firms, solicitors, manufacturers, architects…), then a calculator could be ideal. You could either send a link to the calculator via email, or you could have the calculator on the landing page with a promise to follow up with an email that shares their results and further advice to help them.
---
More help
The ideas for creating a lead magnet are endless, and can be easily tailored to fit your service or product. For more help creating an effective lead magnet, or running an email marketing campaign to win new clients, email me at [email protected].
There's more where that came from
View our other content here
This guide breaks down all the social media image and video sizes you need to know, including LinkedIn, Instagram, Facebook, Twitter, YouTube, Pinterest, TikTok and Google Business Profile.