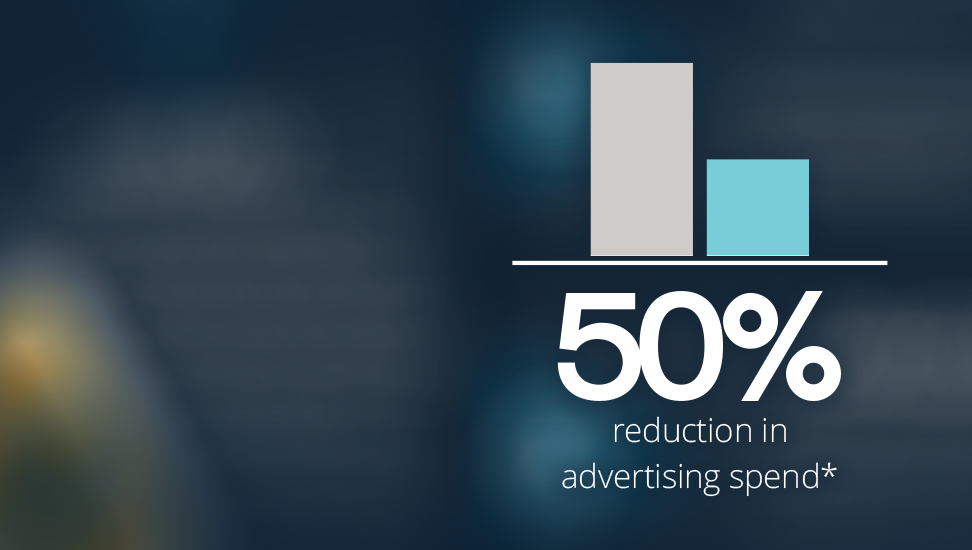 5 ways to immediately reduce your CPC
Are your Google Ads are starting to cost more than the return you make? Our guide shares 5 tips you can try to lower your cost per click.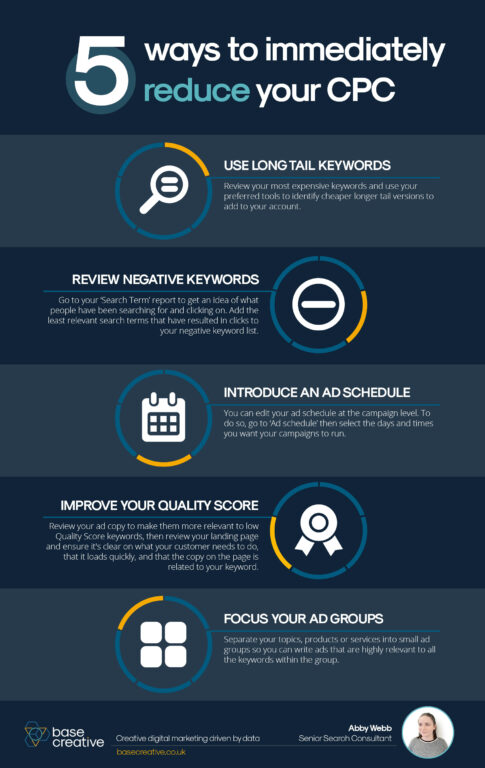 Get the download
To download our ways to reduce CPC infographic, click the button below.
Running a paid search campaign on Google is a savvy way of getting new customers to your website. Unlike many other forms of marketing, Google Ads targeting is based on user intent, which means that you can easily reach the people who are actively searching for the products or services you offer. The result: a strong chance that you'll get a click through to your website that will land in an enquiry or a sale.
But what if your ads are starting to cost more than the return you make? Based on a range of factors, your advertising spend could be higher than you might expect. There could be high competition on the terms you're bidding on or within your industry more broadly (two factors you can't control), although there could also be improvements to be made within your account – which you can do something about!
At this point, it can be tempting to stop your Google Ads altogether, but there are a few tactics you can try to reduce the cost of your ads, so you can make more of your budget. Some you can even implement today.
Here are 5 tips you can try to lower your cost per click on Google Ads right now:
1. Use long tail keywords
What's a long tail keyword? A long tail keyword is a search term with more words, in order to make it more specific than terms with fewer words. Because of their specificity, they tend to have fewer searches every month. And less competition often results in a smaller cost per click (CPC).
For example, consider the difference between a broader term like 'remortgage' and a long tail version like 'how does remortgaging work'. The shorter 'remortgage' term costs, on average, £3.60 per click and is searched for 27,000 times a month according to Semrush. However, the longer version, 'how does remortgaging work' has around 1,000 searches per month – and costs 76% less at just 88p per click. Yes, there are fewer searches on this long tail keyword, but it's going to cost you much less than its shorter counterpart. And, because it's more descriptive, it's likely that those searching for it are more serious about taking action too. Win, win! You can see more examples of keywords and longer tail versions for a range of sectors here.
Action: Review your most expensive keywords and use your preferred tools (like Ahrefs, Google's Keyword Planner or Semrush) to identify cheaper longer tail versions to add to your account.
2. Review your negative keywords
Negative keywords are extremely helpful in preventing wasted clicks – and wasted budget – on your ads if the searcher is after something that's completely irrelevant to your offering. Reducing the number of irrelevant clicks will also help improve your account's overall clickthrough rate.
Action: Go to your 'Search Term' report in your Google Ads account, which you'll find under 'Keywords,' to get an idea of what people have been searching for and clicking on. Use the least relevant search terms that have resulted in clicks as a basis for new terms to add to your negative keyword list.
3. Introduce an ad schedule
If your ads are on 24/7, you could be wasting your ad budget on irrelevant clicks. Those late night searches never seem to be as productive as searches during the day, especially if your office is closed and you're unable to promptly respond to an enquiry. Instead, you can introduce an ad schedule, which means that your ads will only be displayed during the hours you choose. Set your ad schedule to match your business's opening hours to help attract serious searchers instead!
Action: You can edit your ad schedule at the campaign level, so you can run different campaigns at different times, if necessary. To create yours, go to 'Ad schedule' in your account. Click the blue pencil icon, select the campaign you would like to add a schedule to, then use the dropdown menus to choose which days and times you'd like your ads to appear.
4. Improve your Quality Score
To reduce your average cost per click (and therefore get more clicks within your allotted budget), you will need to review your Quality Score. If you improve the Quality Scores on your keywords, you could end up lowering your cost per click by up to 50%!
First up, you'll need to find out what your current Quality Score looks like for your keywords. Go to 'Keywords' and customise the columns that are displayed here, so you can see 'Quality Score'. Seeing what the 'Ad Relevance', 'Expected CTR' and 'Landing Page Experience' is for each keyword is helpful too, so you'll also want to add those columns. Then sort the columns to identify the keywords that have the lowest Quality Score.
Action: Once you've modified the columns in the 'Keywords' section of your ad account, take a look at all the keywords that have a Quality Score of 5/10 or less as a starting point. Don't worry too much about the keywords that don't have a Quality Score yet, but keep an eye on them for the future. Use the information provided by the other columns you've added – Ad Relevance, Landing Page Experience and Expected CTR – to determine the kind of changes you'll need to make to help improve this score.
If your Ad Relevance or Expected CTR is low, review the copy of your ads to see if you can make them more relevant to the poorer performing keywords. If the Landing Page Experience is 'Below Average', then take a look at the landing page the keyword is driving traffic to. Assess whether it's clear on what your customer needs to do, that it loads quickly, and that the copy on the page is related to your keyword, and use these insights to tweak the page accordingly.
For more tips on improving your landing page experience, check out my article on 8 must-haves for a high converting landing page.
5. Focus your ad groups
This tip links closely with your Quality Score and keywords. Making your keywords, ads and landing pages relevant to each other is key when it comes to lowering your ad costs. To help ensure that your ads and landing pages are relevant to your keywords, you need your ad groups to be as focused as possible. Essentially, you don't want your ad groups to have keywords and/or ads that are promoting distinctly different or completely unrelated topics. It's hard to write compelling ad copy for multiple topics when you only have a limited number of characters to work with, and it's likely that your ideal customers aren't searching for unrelated terms in one search query, making it difficult for Google to understand when to show the ad.
Action: Separate your topics, products or services into small ad groups so you can write ads that are highly relevant to all the keywords within the group. For example, a dentist should have different ad groups for cosmetic teeth whitening and treatment for gum disease as it's unlikely that these are being searched at the same time, so the ad copy and landing page should display content that matches the one service that is being searched for. This will result in a higher ad relevance, which in turn will help improve that all-important Quality Score – lowering the CPC in the process.
---
Further reading
---
More help
These tips are a great starting point when it comes to reducing your CPC. For more help with running your ads account as cost effectively as possible, email me at [email protected].
There's more where that came from
View our other content here
This guide breaks down all the social media image and video sizes you need to know, including LinkedIn, Instagram, Facebook, Twitter, YouTube, Pinterest, TikTok and Google Business Profile.