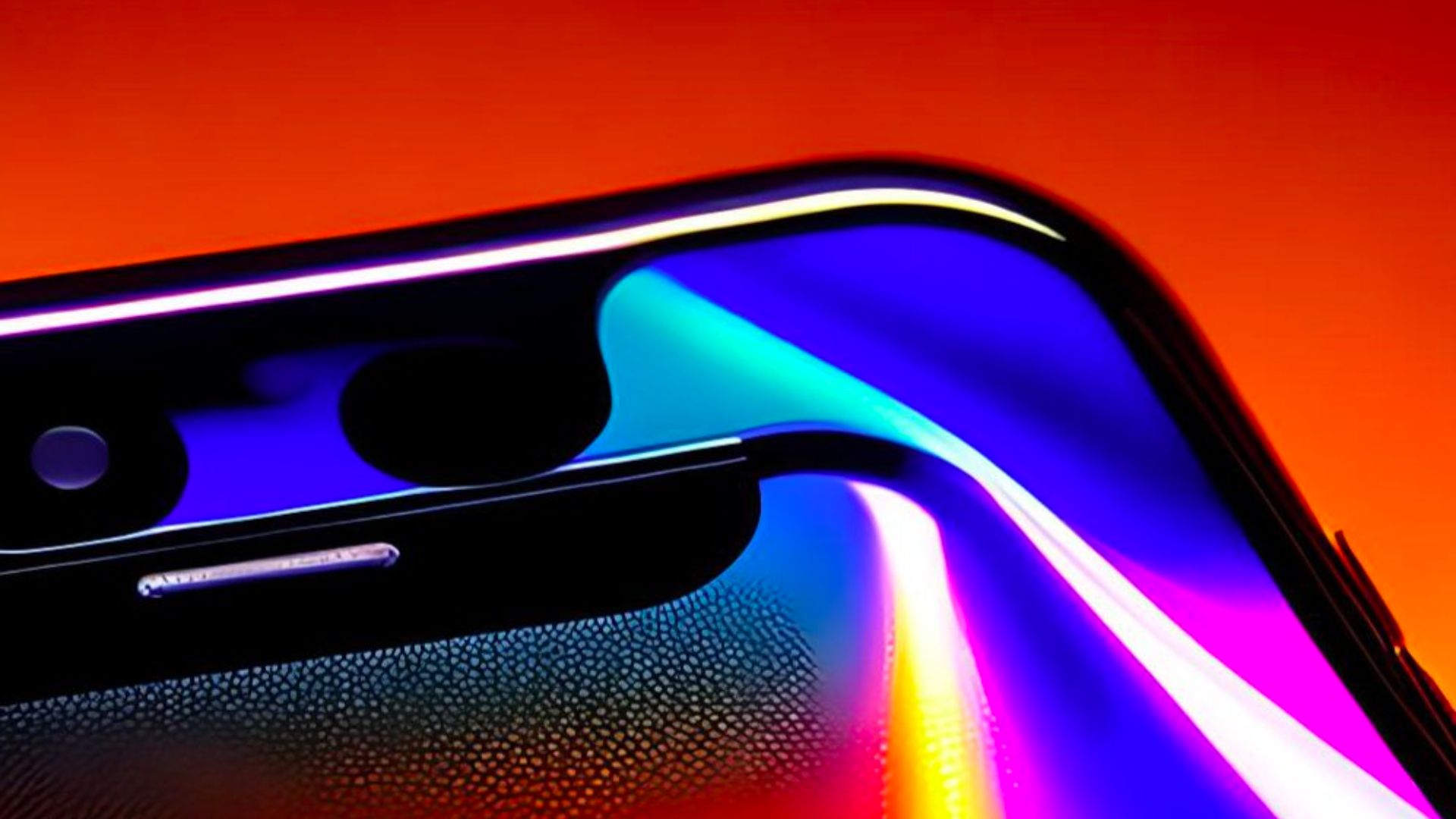 I used AI to generate my Tweets for a month. This is what I learned.
From songwriting to coding, easily accessed AI is taking the world by storm. But can it actually begin to replace professionals online?
"ChatGPT has no inner being, it has been nowhere, it has endured nothing, it has not had the audacity to reach beyond its limitations, and hence it doesn't have the capacity for a shared transcendent experience, as it has no limitations from which to transcend."
This was part of songwriter Nick Cave's response to a song created in his lyrical style using ChatGPT. There has been a lot of debate about the merit of AI-generated content, especially after an AI-generated painting won an art competition back in September.
AI lacks that human element by definition. When it comes to AI's role in the future, however, the real question is whether it can functionally replicate things which used to require that human element to create. The success of AI songwriting won't hinge on the debate over whether those songs can be called art. It will depend on whether AI can write songs that are commercially successful. After all, many #1 hits have already been written by songwriting teams and then given to known artists to perform. The sense that the lyrics reflect the "inner being" of the performer is already artificial.
Whatever you do, I'm sure you have been thinking about the ways AI could begin to impact your work. When considering how AI might impact mine, I decided to start the new year with an experiment.
Can AI replace you on social media?
For the first month of 2023, I set out to generate all of the posts on one of my social media channels using AI.
I would use ChatGPT for the text, and, after some experimentation, Fotor for the images. The topics (the AI's prompts) would be selected by me. The idea was to test whether or not AI could do an effective job posting on social media on my behalf. Could AI replace me?
Platform
At first, I decided I was going to use AI to post on LinkedIn. This is where I ran into an unexpected dilemma. I had my image. I had my text. I even had AI-generated hashtags. But publishing the post felt wrong. Even as an experiment, it felt fraudulent to pass this post off as my own. Every person I was connected to on LinkedIn was someone I had reached out to, or had reached out to me. Every like, share or engagement of any kind would have felt like I was lying to another person.
I decided to use Twitter instead. I use Twitter more as a broadcasting tool, whereas LinkedIn I use to connect to people. It felt less personal and less dishonest to use Twitter, while my larger Twitter following also helped create a bigger sample size.
Results
I generated these two Twitter threads and a Tweet: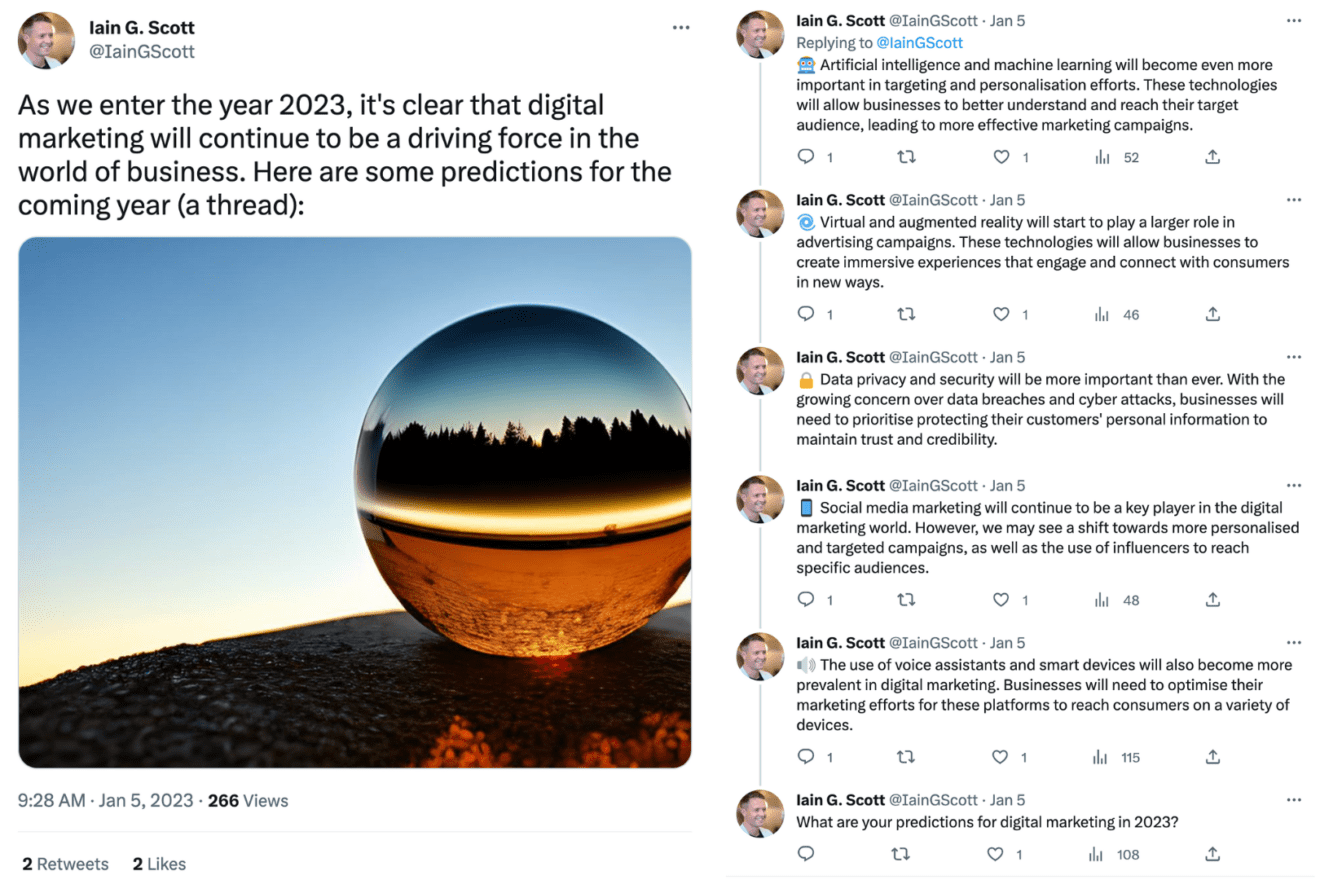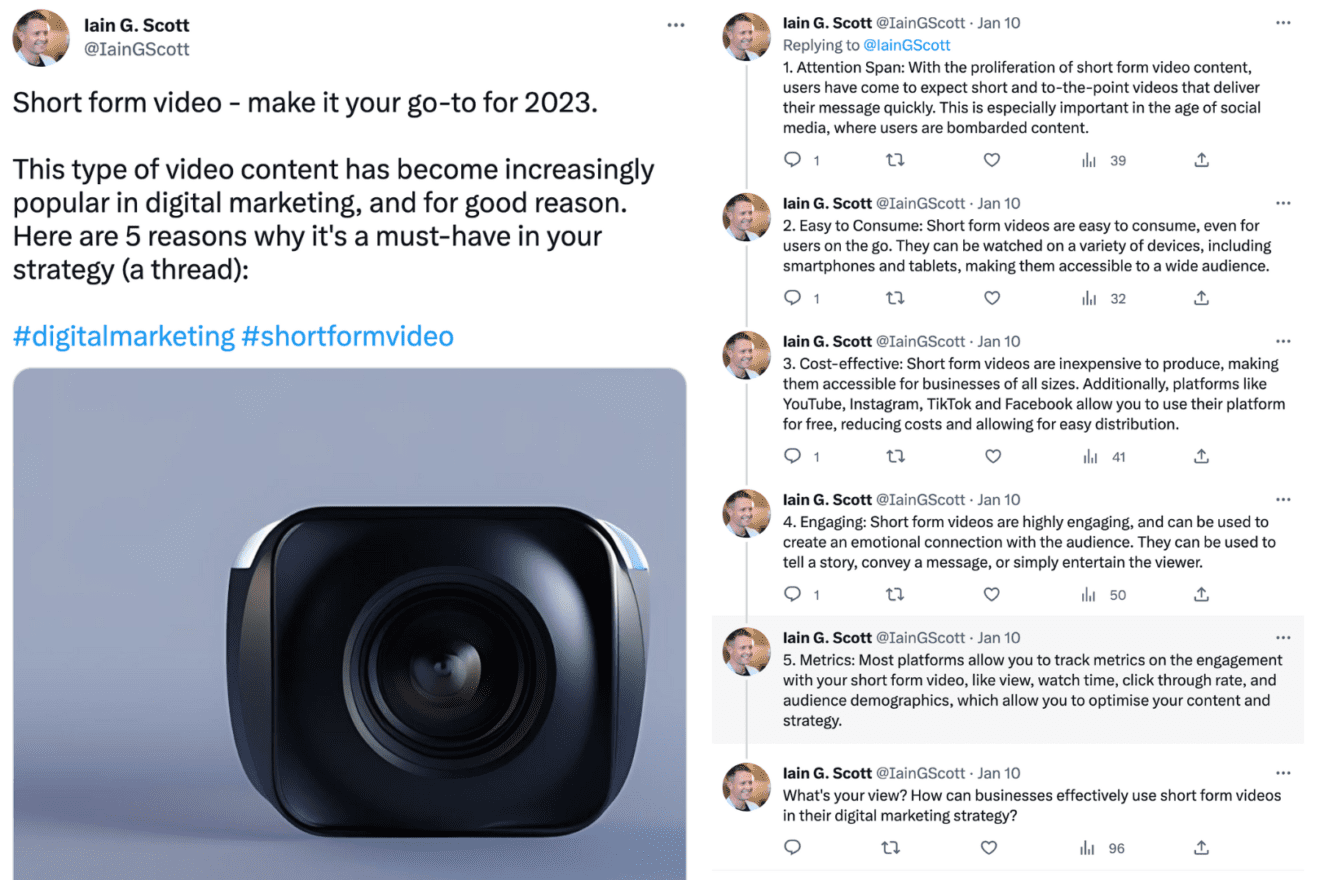 Takeaways
Just like on LinkedIn, I found myself troubled by the ethics of posting too much AI-made content. At first, stopping there felt like the experiment had failed – until I realised that the reason I'd stopped gave me the insight I was looking for. The problem is that, for many professionals online, social media is supposed to connect you to one individual's actual experience – that's what made this AI-generated content feel wrong. This made me think.
AI clearly has some strengths. It's good at producing lists for one thing, even if its commentary is vague. In theory, this is something AI could get better at. Its real shortcoming is that social media users want to know that the person whose posts they are reading has experience to back up their claims, at least when it comes to the professional world. It's not surprising then that AI-generated content begins to boom, Google added "experience" to its E-E-A-T criteria, which it uses to judge the quality of its search results.
AI chatbots like ChatGPT struggle to create text which is relevant to current events. When I post on social media, I want to use my experience to give my connections insight into the present landscape of my area of expertise, and its possible future. Without experience, AI can only talk about the past – in fact, in ChatGPT's case, its information is never up-to-date. Ask it to talk about recent events and its information is completely wrong.
The conversation around AI-generated art is interesting, and Nick Cave's comments hold a lot of merit from an artistic perspective. The irony is, however, that it might be the open, interpretable nature of art that makes it easier for AI to convincingly mimic art to an outside observer. When it comes to professional life online, you need experience-driven expertise that AI can't provide. Unlike an AI written song which still has a catchy tune and relatable lyrics, that experience is the value of the content.
[This article was created with ChatGPT]
Only joking.
Related articles
---
More help
For more help learning about the marketing tools that will work for your business, email me at [email protected].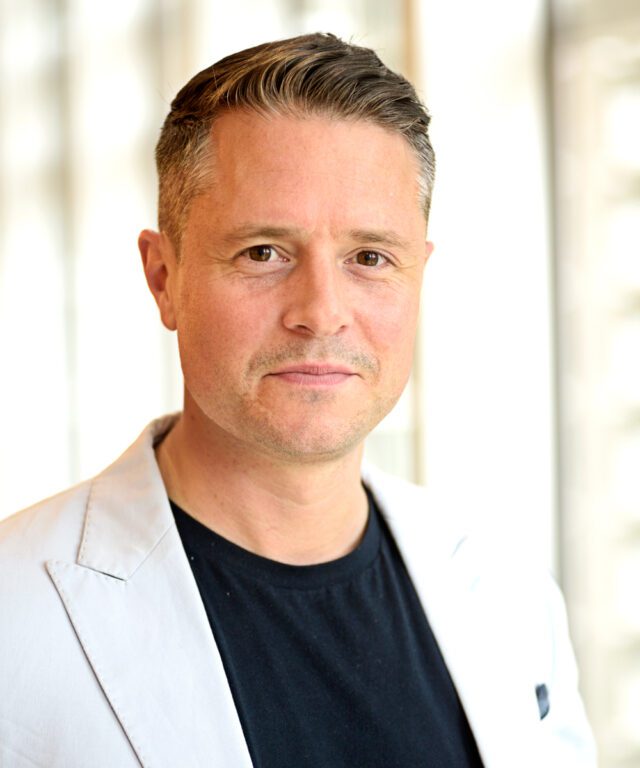 Iain has a strong background in digital, and brings high-level strategic thinking to client campaigns.
I've got plenty to say
View my other articles and opinion pieces below
We are thrilled to announce that our new book Socialise: Unlock your content, maximise social media engagement and win more work than ever before is now available to order and download on Amazon. Purchase your copy of Socialise here. What is Socialise? Your content isn't boring. You're just communicating your content in a boring way. […]