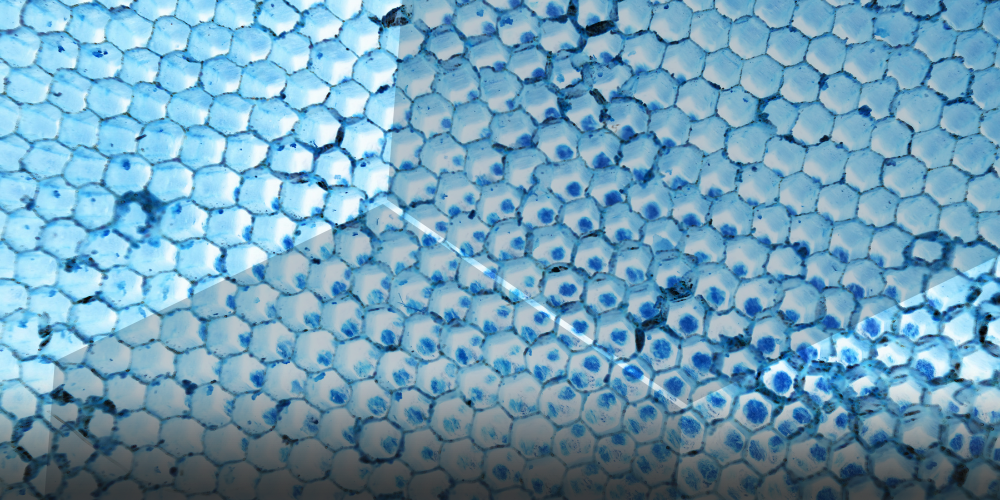 Why it's so important to add captions to your Facebook ads
Learn why captions are so important to include in your next Facebook campaign and how to create them here.
The other day I was uploading assets to Facebook's Ad Manager. I had a meeting with the client that afternoon and was doing the final checks. Ad formats, placements, targeting, budget, UTMs, and… one that's often forgotten – SRT files.
To you and me, that means captions.
What is an SRT file?
SRT stands for 'SubRip Subtitle'. It's a type of file used to displays closed caption or subtitles. SRT files match up captions with timestamps so that they can be displayed alongside a video.
Why do we need to use SRT files?
In this day and age, we consume more video content than ever. Did you know, people aged 16-29 spend 3 hours on social media platforms every day? No matter what or where you prefer to get your news from or scroll for entertainment, chances are video will be there somewhere!
Whenever you're producing a video – even if it's only short – it is so important that you are following accessibility best practices, making sure everyone in your audience can consume your content. And more often than not, that means creating and uploading captions for your video content, including ads.
Today I'll be talking about what you need to know about captions, how to produce them, how to upload the captions, and why it's so important in your overall ad strategy.
What you need to know about captions:
So, there I was, prepping for a meeting with the client, ready to press 'go' on the campaign as soon as they'd given the final sign off. One thing that's often overlooked is the time it takes to prepare all the assets needed for a paid social campaign, particularly when you're including captions.
You need to make sure that the captions are accurate, saved in the correct file format, and you have variations for any different versions of all the ads you're running.
Not only should you make your client aware of how beneficial captions can be (more on that in a minute), but it's also important they have a basic understanding of how they work and what's included, so you can manage expectations about the time it takes to assemble any ads.
This might sound daunting, but with the following advice, you can make the process a smooth one.
Why are captions so important?
First of all, why is it important to have captions – especially for ads? Because 85 percent of Facebook video is watched without sound. That's a staggering amount!
As Facebook and Instagram users are predominantly using the app with their sound turned off, you need to plan your ads with a 'sound off' experience in mind. By including captions, you can be sure that no matter how your ad is consumed, the message and call to action is clear to your audience. That doesn't mean you should neglect the sound though!
"Successful videos designed for sound-off are visually delightful, with a clear focal point and a super-clear message. Yet 60% of global Instagram Stories ads are viewed with sound on, so add an auditory experience to your ad as well."
Not only this, but your ads might even perform better when you include captions. Agorapulse performed an experiment on videos with and without captions, and found that the videos with subtitles had a 7.41% higher 30-second view rate!
How to make captions:
When I need to make captions for a video (that includes when I want subtitles embedded in the video too!) I always turn to VEED.IO. It's a great browser-based app that allows you to upload your video, then auto-generate captions. You can save so much time by doing this!
Here are the steps you need to take:
Go to VEED.IO
Create a New Project
Upload your video
Go to Subtitles and click auto-subtitles, choose the language here
Read through the auto-generated subtitles, iron out any tweaks.
Go to Options
Download Subtitles in SRT format!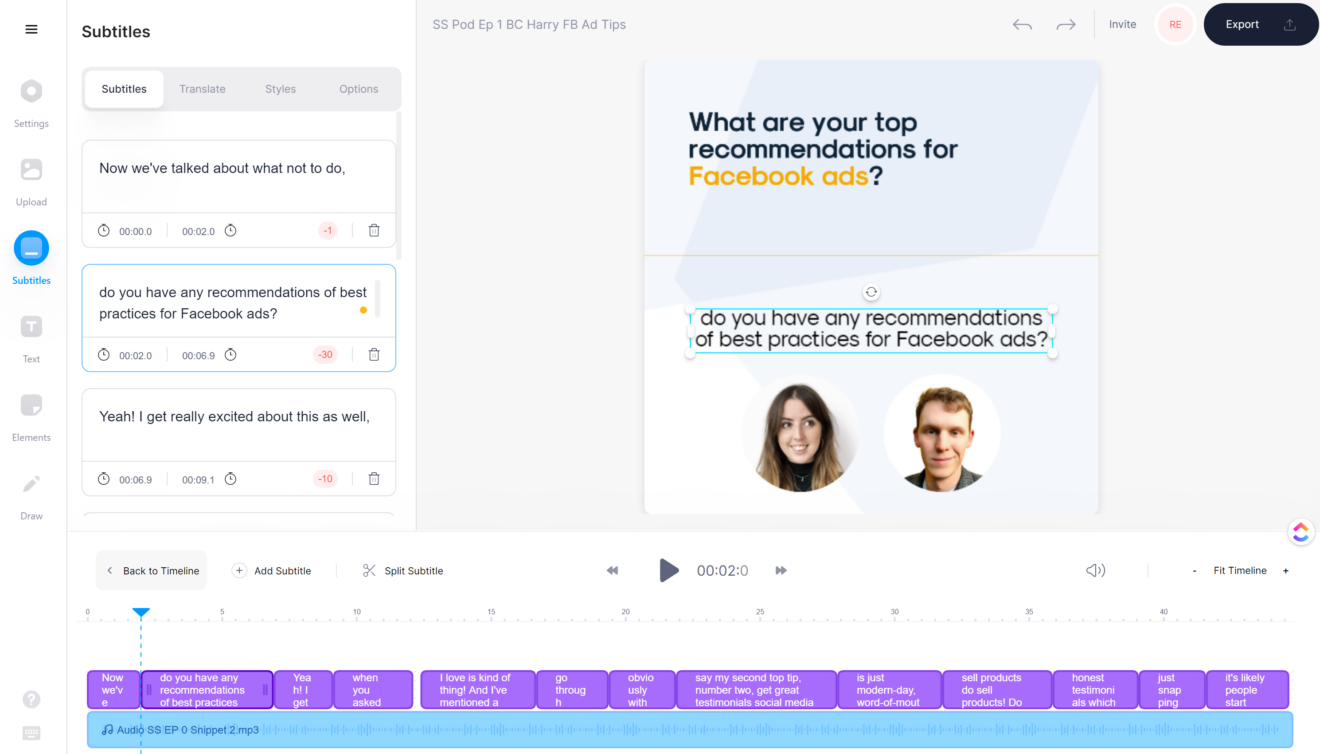 How to upload captions to Facebook:
Once you have your SRT file, you can add it into Facebook Ads Manager so that people who see your ads with sound turned off can still have a great experience.
Before you start the upload process, make sure you file follows the following format, or you'll encounter an error when you try to upload:
filename.[language code]_[country code].srt
For example, an SRT file created would be called:
BCVideoSubs.en_GB.srt
Once you've done that, you can upload your subtitle file to Facebook Ads Manager. When you're ready to upload your video ad, do the following:
In the Ad creative section, upload or create your video.
After your video has loaded, click Edit Video.
Click Captions.
In the Video captions section, click Upload your own.
Click Select file and find the SRT file that you have downloaded and renamed from VEED.
Click Save. Your video now has captions!
Finish adding any edits and preview how the captions look.
Done!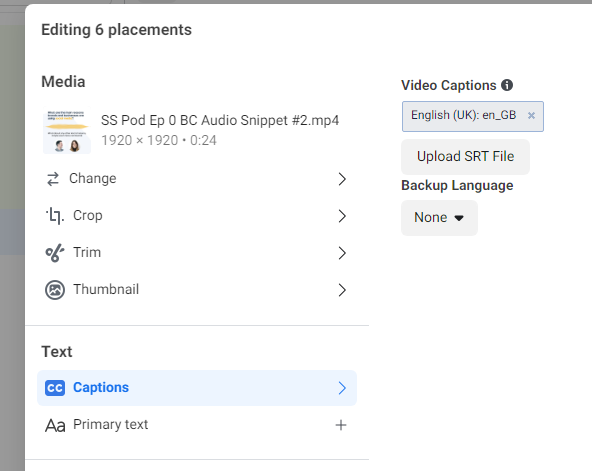 Top tip: When you add your SRT file to a video, it's attached to the video, not the ad. That means if you use the same video in multiple ads, you won't have to keep uploading the SRT file. Handy huh?
Where else are captions useful?
Captions are a hot topic at the moment, with Instagram recently rolling out the new captions sticker. This means that users who like to create Stories for their audience no longer need to type out all the captions manually. Instead, they can just add the sticker! Super handy if you're a Story-heavy creator and even better for those who can't listen to the sound!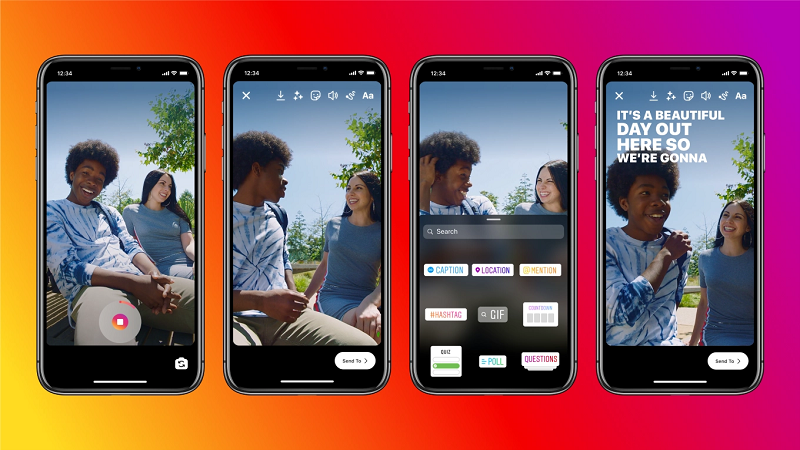 And so! Now you know how to create captions, upload them, and why they're so important to include in your next Facebook campaign!
If you'd like to learn more about why video content can be so effective in your social media strategy, check out this post on maximising your results with short-form video.
Related articles: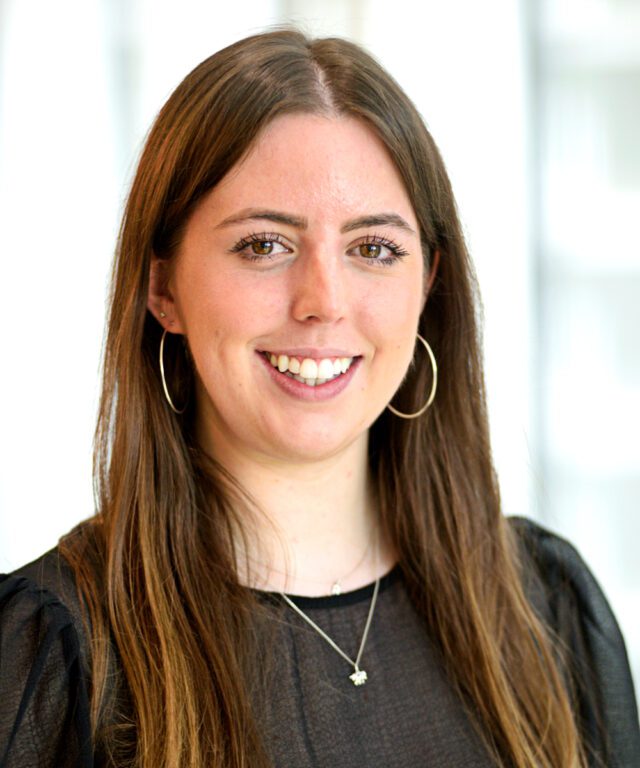 Senior Social Media Strategist
Rebecca is an award winning Senior Social Media Strategist who specialises in paid social media campaigns.
I've got plenty to say
View my other articles and opinion pieces below
What's the point? I think about that question all the time. No, I'm not having an existential crisis. I think about it because it's the first question on the minds of many of our clients and prospects when considering their social media marketing activity. Why is social media important for businesses? What's the value of […]