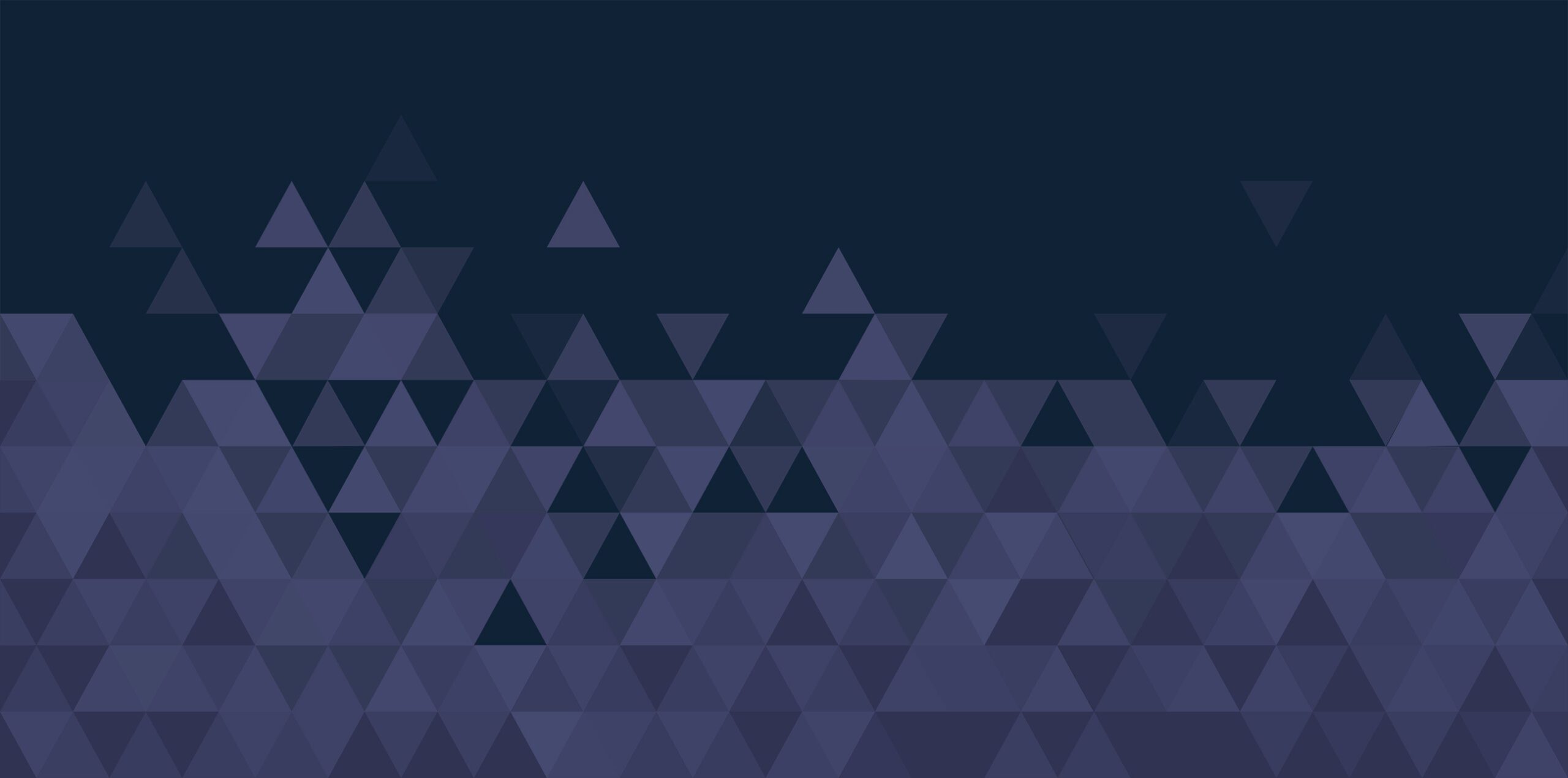 Our top 10 most engaging social post ideas
Struggling to think of content for your next campaign? Don't worry, we're sharing our top 10 most engaging social post ideas to take your marketing campaign to the next level.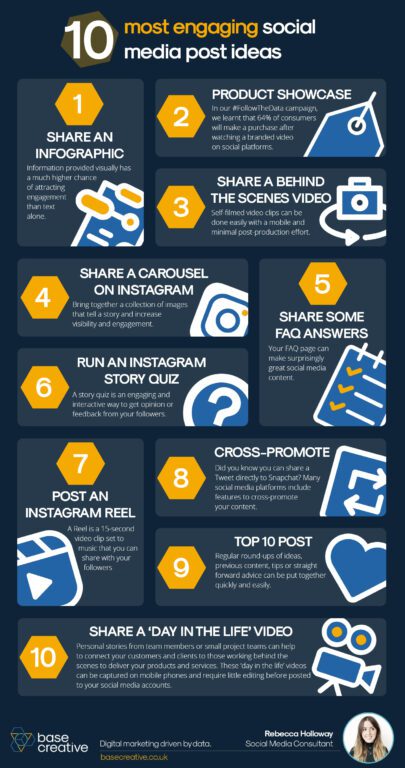 Get the download
To download our engaging post ideas infographic, click the button below.
Engaging content really helps take your social media campaign to the next level. But we know that posts ideas are tough to come up with all the time, which is why we've created this guide sharing our 10 most engaging social post ideas to help you out.
The best social media campaigns include a variety of content, so you can test which types resonate with your followers. For example, your audience might engage more with images rather than video, or prefer short-form videos instead of a longer, high production video. This often depends on the industry you're in and the social media channels you're using.
Whatever you choose, the key is to make sure you choose the right type of content and platforms to suit your target audience and your marketing goals.
So, whether you're looking to boost your social media following, drive traffic to your website or create excitement about an upcoming event, these creative ideas are guaranteed to help you think outside the box.
1. Share an infographic
What data can you put together from research and campaign results to form an infographic? Infographics are a great form of content, you can share them in blog posts but they also work really well on social media. You can choose to share the whole infographic in one go – you might want to do this on Pinterest, for example. Or, you can break down the data shared into bite-sized chunks. This is what we did for our #FollowTheData campaign.
Infographic social posts are a great way to drive traffic to your blog articles – take a look at how Iain Scott did that via LinkedIn.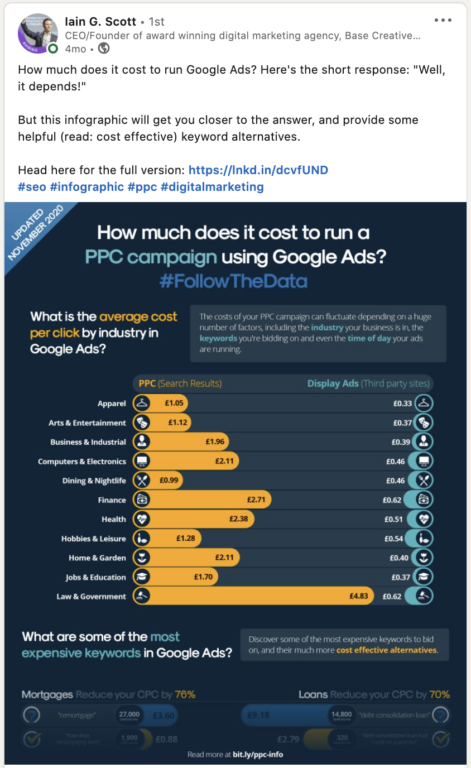 2. Share a behind the scenes video
Behind the scenes videos are a very popular form of content at the moment and are a great way to start incorporating more video into your social media strategy. 87% of marketers say that video has increased traffic to their website, so use this to your advantage!
You can share short snippets on Instagram Stories, or go for the new popular style, company vlogs. These can be a really effective way to not only showcase your services and values but also provide you with lots of content that can be cut into short video clips for social.
One of our favourite company vlogs to watch is The Daily Bolt by Electric House.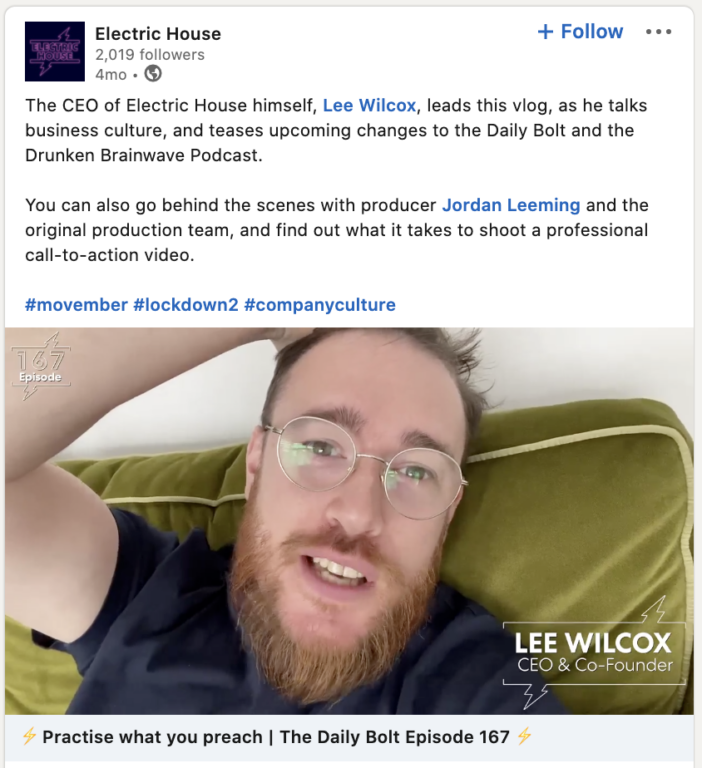 3. Showcase your products
Product demos are another great way to get video into your strategy. We carried out some research in our #FollowTheData campaign and learnt that 64% of consumers will make a purchase after watching a branded video on social platforms.
A couple of suggestions to showcase your products: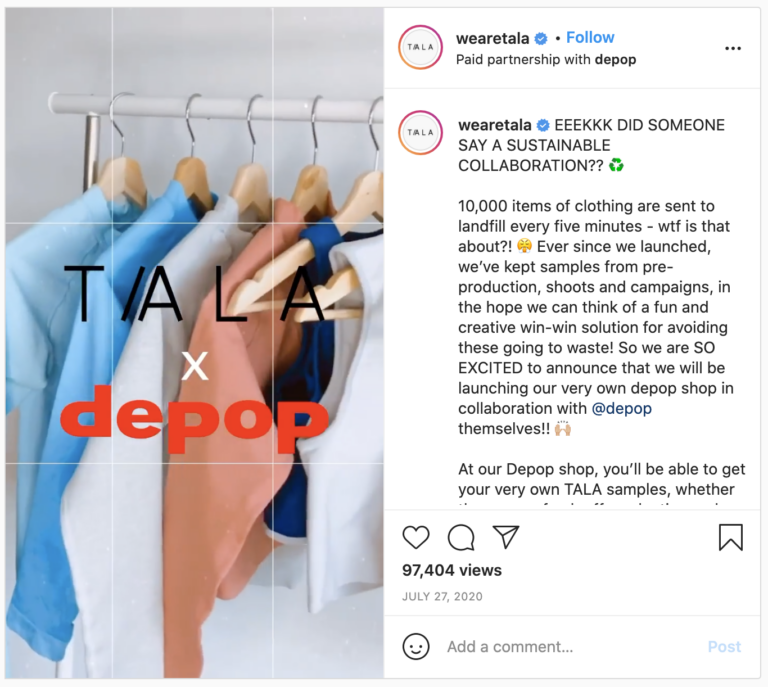 4. Share a carousel on Instagram
When you're scrolling through Instagram, how often do you see a "Tap the link in our bio" prompt and actually follow through? I expect it's pretty unlikely. Use carousels to break down blog articles that you've written on your site into smaller chunks so that you can showcase your knowledge and expertise without trying to get your audience to jump through hoops.
Here are 5 tips to improve your PPC campaign, perfectly displayed in a carousel format on Instagram.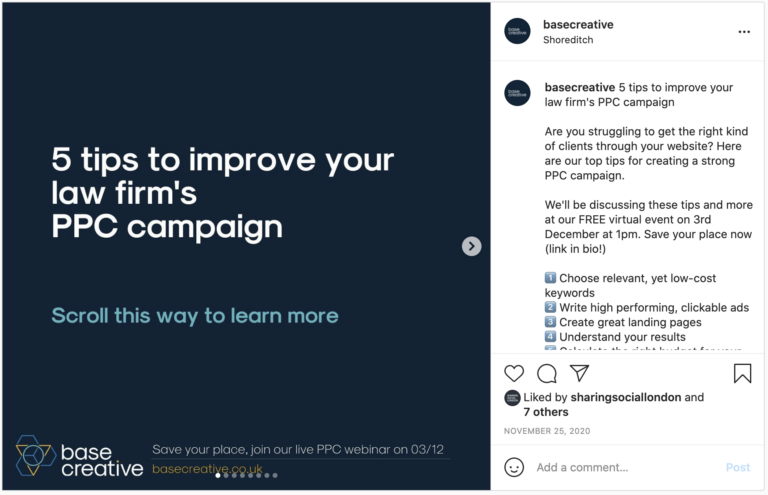 5. Run an Instagram Story Quiz
Instagram quizzes are a great way to encourage your audience to engage, plus it gives you the opportunity to create a buzz surrounding the event. Pick a theme, plan out your questions in advance, and to really give your quiz the wow factor, design slides so that you can clearly represent your brand in each Story.
Here's a great example of how you can use the Quiz stickers on Instagram, from Later.com
6. Share the answers to FAQs
Chances are, you'll have some questions that always crop up in your comment sections or that you receive frequently from clients. Jot these all down into a list, and use this as a source of content. You can be creative here, mixing content types depending on the type of question.
More technical questions might be better suited to a long-form LinkedIn post, or you could go in-depth by using a carousel as we've already mentioned.
An alternative for questions that are more high level would be to get a member of the team to talk through the question and answer. You could post this as a short Instagram Story and save it to your highlights, or even opt for a longer video and create an IGTV from it, or even share on YouTube.
7. Cross-promote
Social media platforms are finally working together. Did you know you can now share a Tweet directly to Snapchat? Neither did we until recently, but Snapchat might not be best suited to your target audience.
However, a common and effective way to cross-promote content is by taking a screenshot of your Tweet and sharing this on your Instagram grid. Here's an example from some recent promotion we did for the Sharing Social podcast.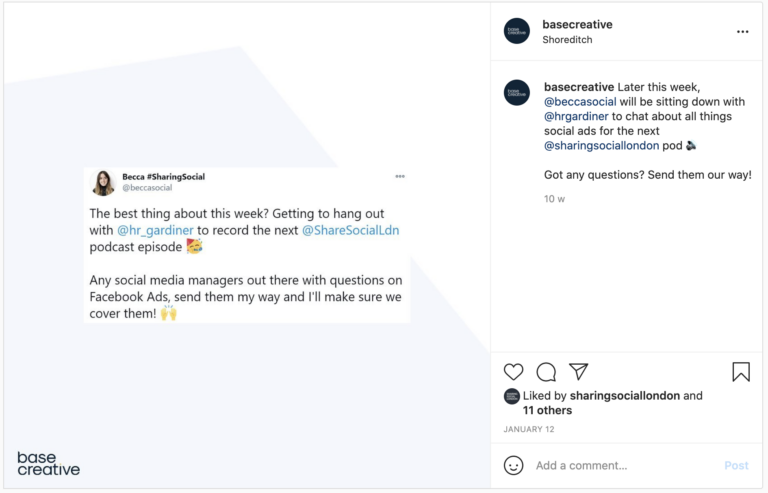 8. Post an Instagram Reel
The new kid on the block. Reels, famously borrowed from TikTok's successful format, are a great way to specific points or tips from an article you've written.
Why pick Reels over TikTok?
Since Reels are so new to Instagram right now, they're receiving a lot of weighting in the algorithm – this means there's an opportunity for you to have your content seen by both your existing and potentially new audiences. If you haven't got a TikTok account yet (we suggest you at least secure your username, even if you don't plan on posting there) Reels can be a great way to make use of this short-form content and utilise your already exciting audience. It's quicker than starting fresh on a new platform.
Here's an example of a Reel from Later.com
9. Share a 'day in the life' video
This might sound daunting at first, but it can actually be very easy to film a few key parts of your day from members of your team to create a 'day in the life' style video. You could share this as a Reel or TikTok and could make this a regular content piece in your calendar. It's a fun way of showcasing the team, giving them a chance to share what they're working on.
Here's my day in the life video as an example!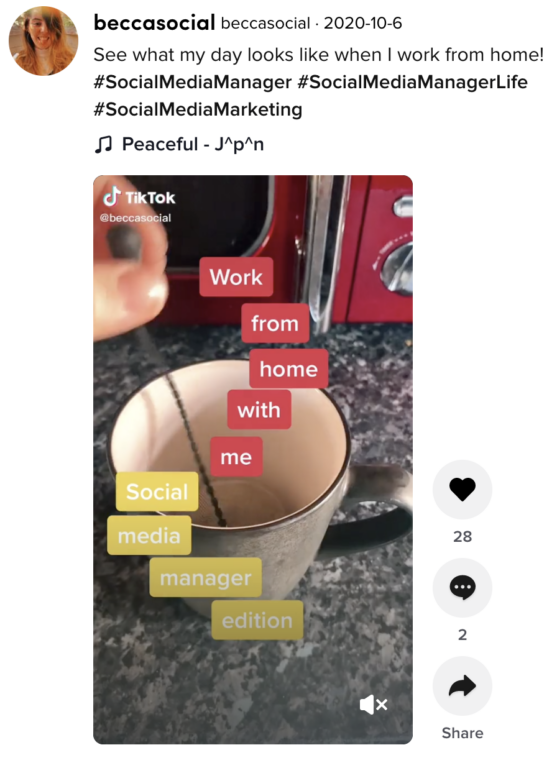 10. Top 10 post
Have you ever written a top 10… post? We have – you're reading it right now! These types of posts are great. You can use one of the techniques we've described above if you want to share all the content in one go, or you can break each of the recommendations out into separate pieces of content.
Here's an example of how we're breaking down some of our top PPC tips into a regular feature on LinkedIn.
---
Related articles
---
More help
Thanks for reading our top 10 most engaging social post ideas! Why not let us know which you'll be using next by chatting to us on Twitter? For more help, email me at [email protected].
There's more where that came from
View our other content here
This guide breaks down all the social media image and video sizes you need to know, including LinkedIn, Instagram, Facebook, Twitter, YouTube, Pinterest, TikTok and Google Business Profile.