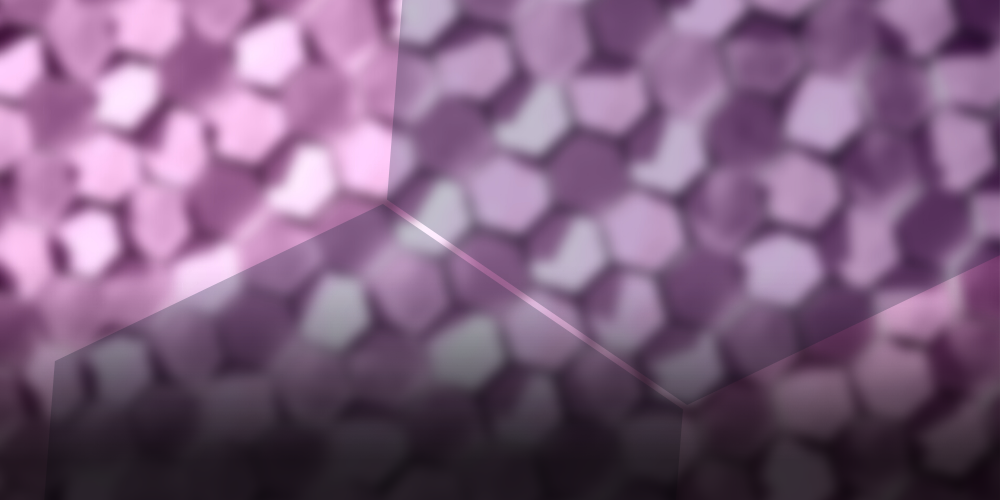 How to create the perfect TikTok Ad
Read on to learn more about creating TikTok In-Feed ads, best practices, and scaling your campaigns.
TikTok Ads are growing in popularity this year thanks to an increase in users across the platform (there's now over 13 million!), new ad types being rolled out, and low cost per click compared to other social media platforms.
In fact, in a recent campaign we carried out across Instagram and TikTok, Instagram ads cost £0.20 per click, whereas TikTok only cost £0.06 per click on average.
Currently on TikTok, there are a number of ad types to choose from, including:
In-Feed ads
TopView ads
Brand Takeovers
Branded Hashtag Challenges
Today I'll be focusing on In-Feed ads. These are a great place to start when you're getting to know TikTok's advertising platform.
Read on to learn more about creating ads, advertising best practices, and scaling your campaigns up.
What is a TikTok In-Feed Ad?
A TikTok In-Feed ad is an ad you'll be most familiar with, as it's very similar to the format you'll see across other platforms. TikTok In-Feed Ads can be up to 60 seconds long, and appear in between videos on the For-You page with sound on. The positioning of the ads will depend on the targeting criteria and budget set, and users will be able to comment, like and share these ads as they would with a regular TikTok video.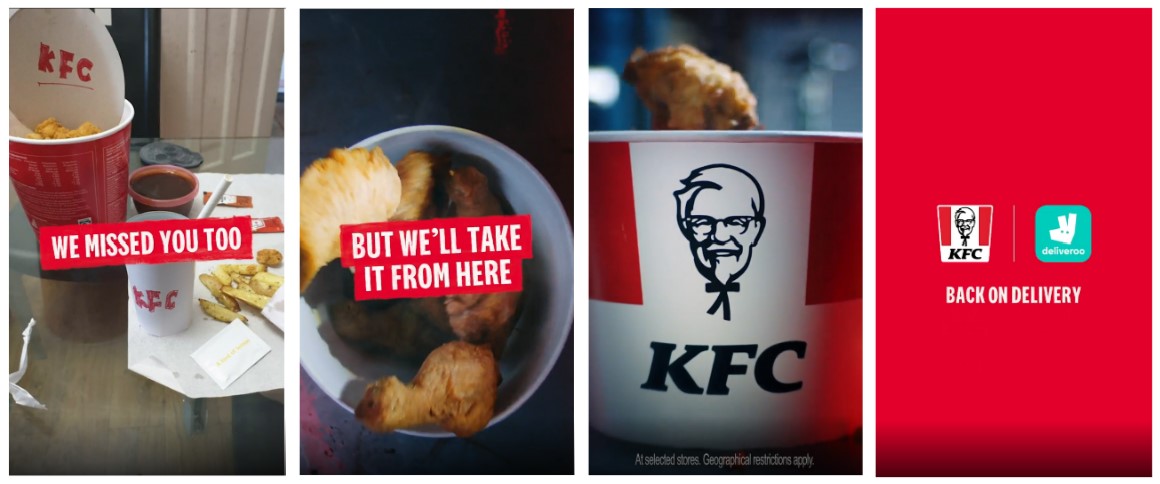 What can I achieve with an In-Feed ad?
There are different use cases for In-Feed ads, and they can help you at all stages within the funnel. The main objectives you can work towards with an In-Feed ad are:
Reach
Traffic
App Installs
Video views
Conversions
In-Feed ads are accessible through the TikTok Ads Manager and are a great place to start if you've never run a TikTok Ad before. Use them to understand more about your audience, test which creative styles work best, and get a feel for how to best incorporate TikTok into your strategy.
What bidding method do I use for In-Feed ads?
When you set up your ad campaign, you'll need to decide which bidding method will work best for you. You'll be able to choose from:
CPM – cost per thousand impressions charges based on the cost per thousand impressions
CPC – cost per click charges for each counted click on your ad
oCPC – optimised cost per click means you will bid the cost you are willing to pay per result, but will be charged per click
CPV – cost per view charges based on the cost per view or pre-defined interaction
I would recommend starting with CPC to start with whilst you're seeing how your ads are performing and how you can optimise them further.
How long should my TikTok ad be?
As we've mentioned, In-Feed ads are short by nature. You have up to 60 seconds to play with on TikTok. That might sound like a long ad, but you shouldn't feel the need to use the whole 60 seconds.
TikTok recommends keeping your ads between 9-15 seconds, because audiences have a typically short attention span, and you'll have fierce competition on TikTok when it comes to stopping users in their scrolling tracks!
Quick tip: The shorter your ad, the more likely you'll be able to achieve a high watch time – this is a metric that will help TikTok identify your ad as high performing or not. Use this to your advantage!
Use some of our creative techniques explained below to help capture your audience's attention.
How can I make ads for TikTok?
Now you know how much time you have to play with, you're ready to create your ads! The first thing to consider is your audience. TikTok audiences are very savvy. As TikTok themselves state, "Don't make ads, make TikToks!"
Best filming practices for shooting content
One of the biggest misconceptions when it comes to creating video ads is that you need a fancy setup, with a professional camera and studio lights. That's not the case for TikTok. All you need is your mobile phone. Grab yourself a mini tripod and use natural lighting, and let the creativity do the work. This easier to do than ever, especially now more and more marketers are working remotely. During lockdown, we put together this handy guide to help you shoot video at home. This will help you with content across all social media platforms, not just TikTok!
Using TikTok built-in tools:
TikTok has introduced four new tools to help you create and scale ads, so you can spend more time finding out exactly what resonates with your audience and how to optimise your ads for success:
Video Template:
You can access the video template tool within the TikTok Ads Manager when you're uploading assets. It's a tool that helps you put together existing photos you have, combined with your logo and copy, and allows you to add music to your final TikTok without worrying about copyright issues. This is particularly handy if you're looking to try out new templates with minimal time and effort.
Smart Video:
Smart Video is similar to the Video Template tool, however, with this tool you can upload multiple photos and videos, which TikTok will then analyse and create an edited version ready for you to use in your ads.
The tool will automatically keep the main parts of your video, whilst syncing the video and transitions to the rhythm of the music.
Smart Video Soundtrack:
Have you noticed a pattern? Each tool builds on the last! Smart Video Soundtrack allows you to upload a video into TikTok and it will automatically find the appropriate music for your ad, there are plenty of genres to choose from including Classic, Pop, EDM, Rock, Folk and more. Why not try picking a couple and testing them against each other?
Staying in the safe zone
No matter how you decide to create your ads, it's super important you remember how the TikTok interface will look next to your content. It's easy to forget how much of the screen is covered up by the caption and share buttons along the right-hand side of the screen. When filming content, make sure you'll be able to frame the main subject/any captions in your video in the middle of the screen.
Here's an example: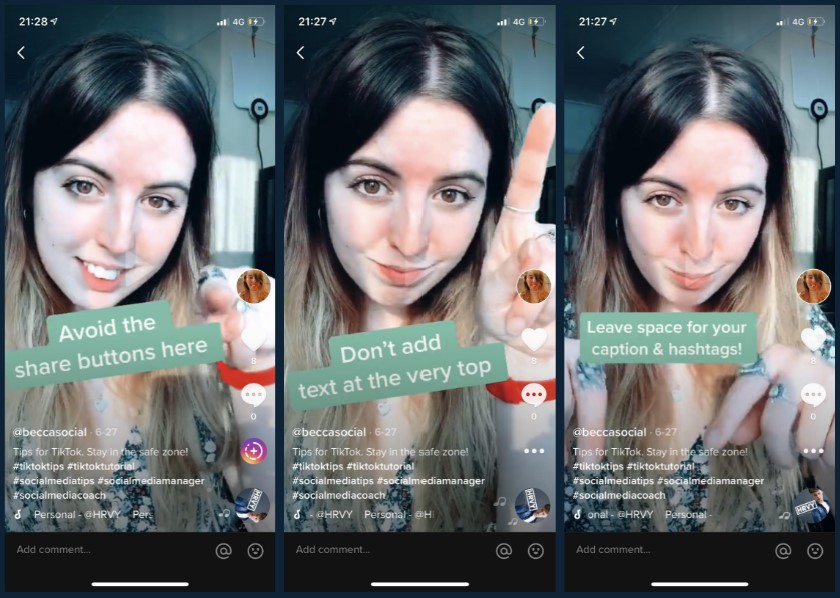 Adding captions
Are your ads accessible? TikTok is a sound-on platform, but that doesn't mean you can forget about adding subtitles to your ads. You need to add subtitles to your ads to ensure that the message is clear and concise to your audience, should they be watching with the sound off. TikTok is currently rolling out auto-captions across the platform, but in the meantime, familiarise yourself with why it's important to add subtitles to all of your social media content, organic or paid!
TikTok ads checklist:
TikTok is the home of creativity. There are constantly new trends evolving on the platform and unique ways to share your message. Here's a checklist for you to run through every time you run a TikTok ad:
Choose an objective for your campaign
Plan your content before you shoot, it will make it easier to know which shots you need!
Is your content in frame? Make sure your CTAs aren't covered up by TikTok's interface
Add subtitles to your ads
Use TikTok's built-in tools to create different variations of your ad – test, test, test!
Update creative every 7 days based on your performance findings to avoid ad fatigue
I always follow these steps when running TikTok campaigns our clients.
It's important to keep ad creative fresh to have the best results. Don't get too attached to your ads, as you've got to be ready to try new things and look for creative ways to incorporate the latest trends running wild across the platform into your ads.
Remember, don't make ads, make TikToks!
---
Related articles: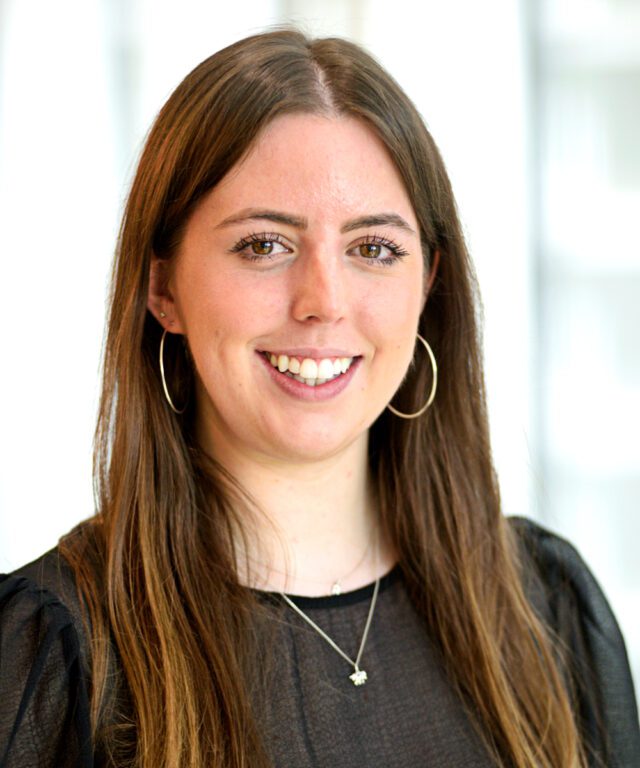 Senior Social Media Strategist
Rebecca is an award winning Senior Social Media Strategist who specialises in paid social media campaigns.
I've got plenty to say
View my other articles and opinion pieces below
What's the point? I think about that question all the time. No, I'm not having an existential crisis. I think about it because it's the first question on the minds of many of our clients and prospects when considering their social media marketing activity. Why is social media important for businesses? What's the value of […]