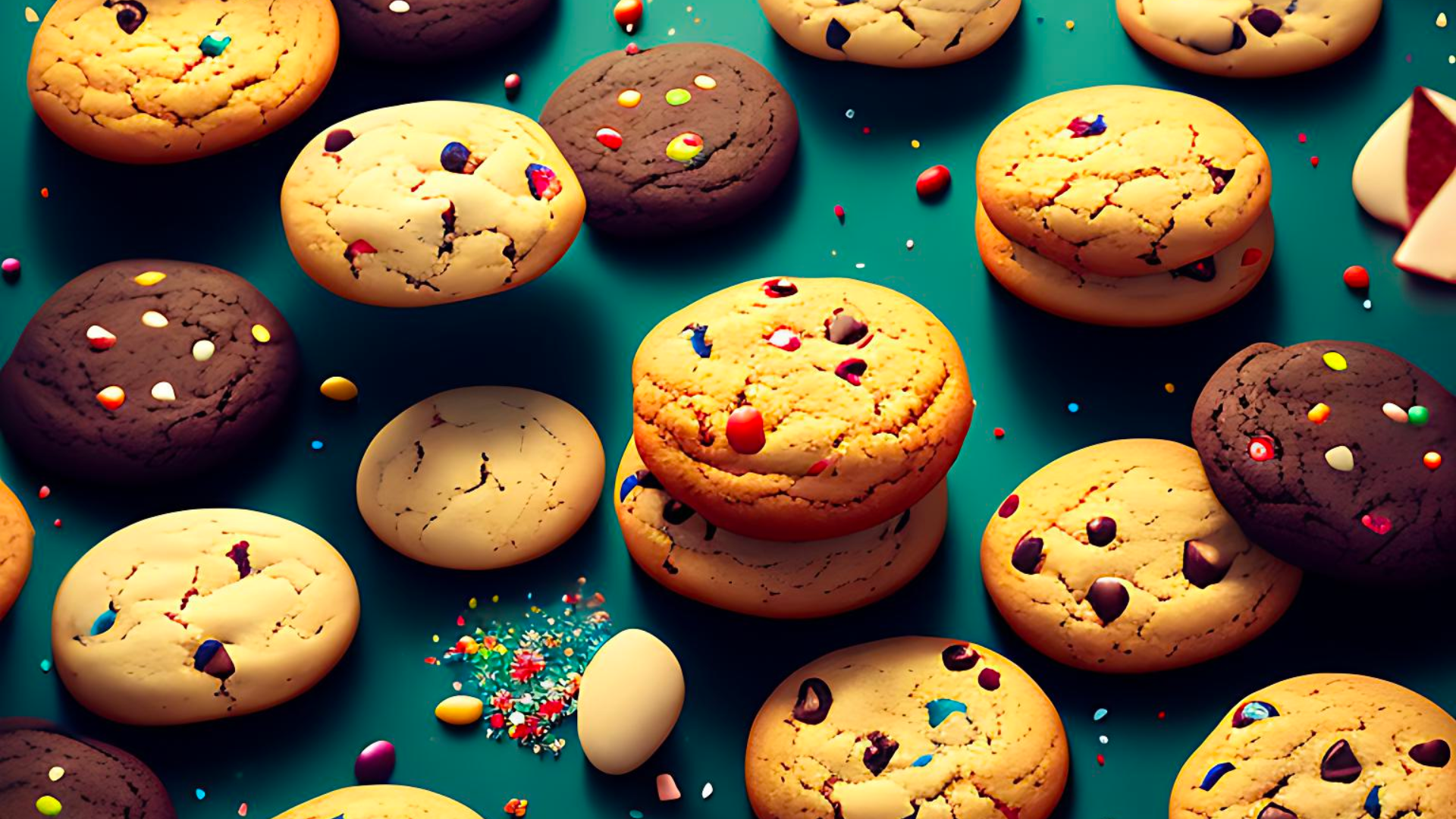 GA4's AI: Everything you need to know about artificial intelligence in Google Analytics 4
Artificial intelligence plays a vital role in Google Analytics 4. Here's what you need to know before the final switchover to GA4 on July 1.
Stop someone on the street and ask them what they think when they hear "AI."
You'll likely hear a few answers. ChatGPT. Automation. Computers taking over the human race.
Many conversations about AI are warped by preconceptions. These range from sci-fi ideas about AI capabilities, to limited understandings of AI's use based on specific services.
Artificial intelligence plays a vital role in Google Analytics 4.*
Forget ChatGPT and forget science-fiction. To understand AI's role in GA4, you need to understand exactly what Google is using it for, and how it can help you.
*If you haven't already made the switch to Google Analytics 4, time is running out – Google's old reporting platform, Universal Analytics, discontinues on July 1, 2023. Speak to me now if you need help in transitioning over. 
AI Insights
One of GA4's most significant new features is its AI-driven "Insights" panel.
GA4's AI Insights can automatically identify opportunities and surface insights from your data that would be difficult to identify manually. It can also identify trends and predict irregularities.
These insights can help you better understand your customers' behaviour. By leveraging GA4's AI-driven insights, you can make more informed decisions and get ahead of the competition.
Here are some examples: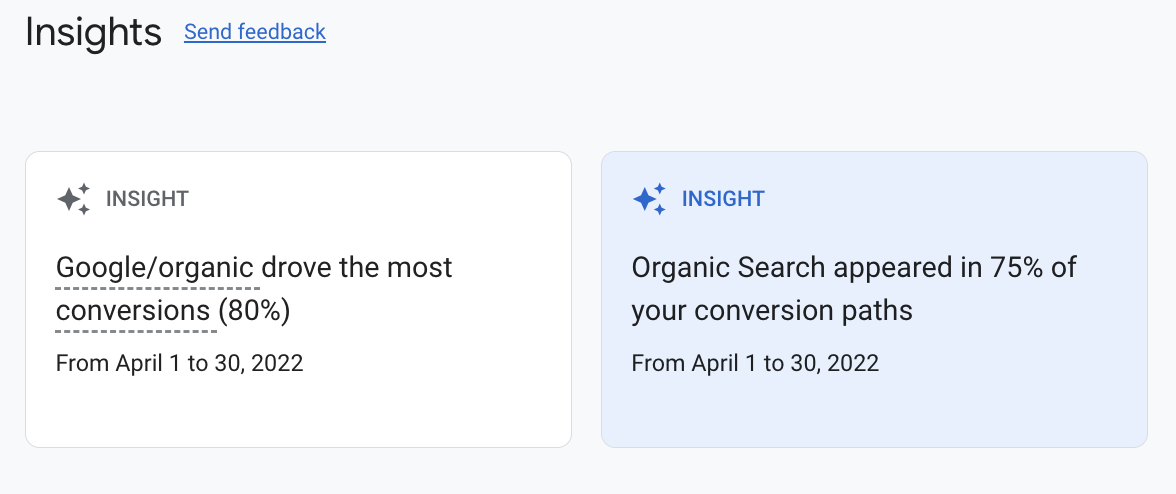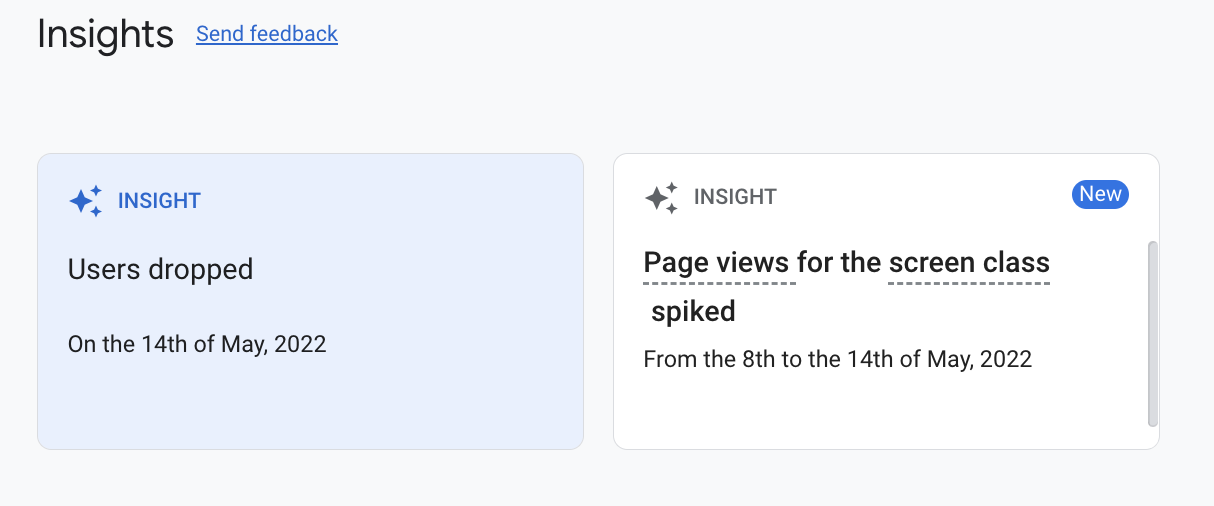 This use of AI was introduced to help fill the gaps in analytics data that third-party cookies left behind.
The cookie gap
Cookies are small blocks of data which are used to track individual users. There are two types of cookies, first-party cookies and third-party cookies.
First-party cookies connect the user to their data on one site (saving your password, for example)
Third-party cookies enable tracking across multiple sites
Third-party cookies have become heavily regulated in recent years.
As of 2019, UK law requires webpages to get explicit permission from users before tracking them using cookies. By 2020, restrictions like these had led to a 40-60% drop in recorded sessions across many of the sites we were reporting on.
Restricting third-party cookies is a step forward for online privacy, but it has left data giants like Google playing catch up. This is where the predictive ability of GA4's AI Insights now plays a crucial role.
---
It is essential to start using GA4 sooner rather than later to ensure a seamless transition and continued access to valuable data. However, it's also important to understand its limits.
Everyone is talking about AI, but to use it effectively, it's vital to understand its particular uses in different contexts.
GA4's AI does not mean that your analytics will be able to run itself automatically, that human input can be cut out, or that robots are coming for your job. In GA4's case, AI works as a partial solution to the huge gap in user data that third-party cookies have left behind, helping users gain more insights with less data.
Learn more about GA4
---
More help
For more help making sense of Google Analytics 4 and your website data, read about our Analytics & dashboards services or email me at [email protected].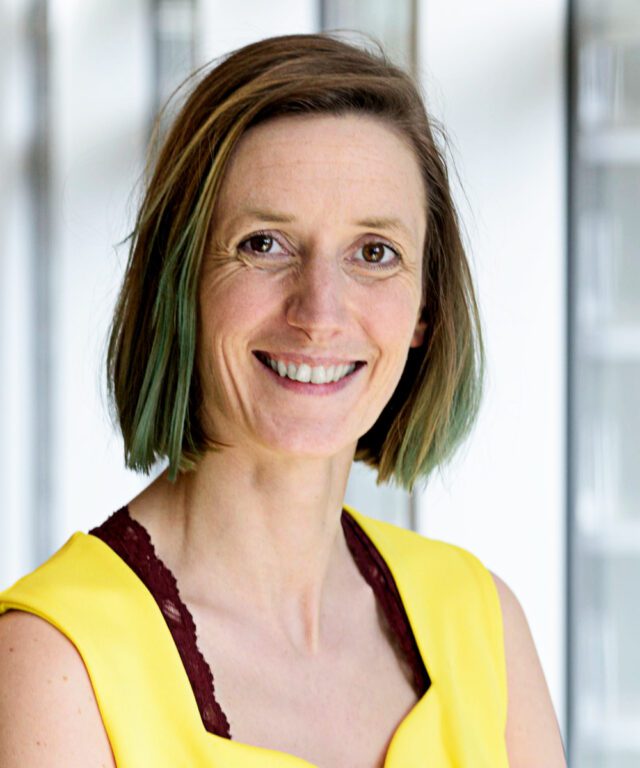 Director of Client Success
Anna is responsible for all client delivery, and is our resident data and analytics lead.
I've got plenty to say
View my other articles and opinion pieces below
Collecting data is exciting. There's a big buffet of data out there to choose from, with companies analysing everything from scroll speed to mouse movement. Finding new ways to learn about your site visitors is a great technical challenge. Okay, maybe that's just me.  But whether you find it exciting or excruciating, collecting data on […]